Top Tier Furnace Replacement Service for the Minneapolis Area
Staying warm in the winter is a priority when you're living in the Twin Cities. Make sure your furnace is operating at max capacity this season before the snow starts to fall. Whether you need a brand new furnace or want your old one replaced, Sedgwick Heating offers furnace replacement and installation services in Minneapolis, MN and the surrounding areas.
With decades of experience in the Twin Cities metro area, you can rely on Sedgwick to assist you with any of your furnace needs while providing you with industry-leading brand name appliances and custom solutions catered to your home. Old furnaces can lead to expensive energy bills and potentially cause harm to your family with airborne dust, mold, pollen, viruses, or even dangerous gas. Before the cold creeps in, make sure you're prepared for the season and rely on Sedgwick to keep your home comfortable all winter long.
Home Comfort Furnace by Lennox
In need of a trustworthy furnace installation? Purchase an energy-efficient furnace that will save you money upfront and in the long run. The Home Comfort Furnace by Lennox features a variable-speed motor and modulating stages of heating, granting your home the ability to choose its efficiency — without constantly running at full capacity.
Benefits include:
Being recognized for its fuel efficiency up to 99% AFUE rating
Eligible for a tax credit
Compatible with air filters and humidifiers
Call Now To Get Started! 952-881-9000
Get Started Today
Privacy note: All submitted information will only be shared with Sedgwick HVAC. See our full Privacy Policy. This site is protected by reCAPTCHA and the Google Privacy Policy and Terms of Service apply.
Minneapolis-Area Furnace Installation & Replacement Services
No matter the year, model or brand of your current furnace, Sedgwick can accommodate you with high-quality equipment and unparalleled customer service.

Furnace Installation
If your home is new, make sure your furnace is as up to date as the rest of your Minneapolis-area home with furnace installation from Sedgwick.

Furnace Replacement
Have an old furnace that isn't operating as it should be? It could be costing you money. Depend on Sedgwick for new equipment with our furnace replacement services.
Furnace Replacement & Installation Services
Our furnace replacement and installation services in Minneapolis, MN come with industry-leading advice on furnace equipment and whole-home comfort systems from our team at Sedgwick. If you find yourself searching for "furnace replacement near me," consider Sedgwick for our post-service follow-ups. Even after your new furnace is installed, our team follows up with maintenance plans, ensuring your furnace is operating at peak efficiency and built to last.
Discover our service plan options and see what works for your home and budget. Sedgwick offers regular specials on our services and equipment, along with HVAC financing services.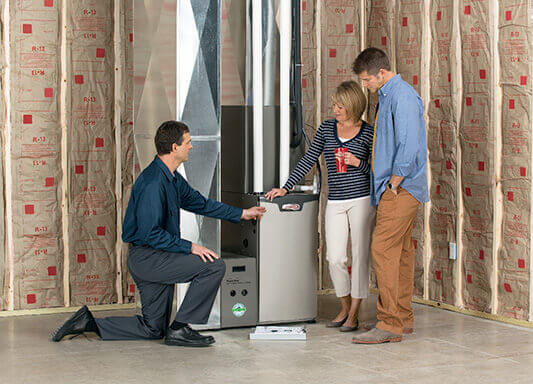 Our Minneapolis Furnace Installation Process
At Sedgwick, we understand the importance of your home. Our knowledgeable technicians follow a proven furnace installation process and perform their services efficiently, with excellent customer service and transparent communication.
Check out our proven installation process:
Before the installation process, Sedgwick works with you to settle on a furnace that operates in unison with your home, providing you with helpful advice and insight on what is the most energy-efficient option.
Once you have found a furnace that meets your needs, we will set a date for installation.
On the day of installation, we'll arrive promptly and thoroughly equipped for your services.
Our technician will replace or install your furnace quickly with our on-hand* parts.
We're off, and you can continue to enjoy a comfortable home this winter!
After your furnace installation or replacement, we will follow up on our services and make sure your home is comfortable for the season. We offer monthly and yearly plans to make sure your furnace continues to function efficiently.
Satisfaction Guaranteed
"We had our 25-year-old furnace & AC replaced by new units from Sedgwick and we couldn't be happier with our products and the installation process. Sedgwick helped us pick the perfect products for our home and we are so grateful! No more nickel and diming our furnace and AC to keep them alive." – Alicia G.