Prevent Illness & Remove Airborne Bacteria
Whole-House UV Air Filtration Systems for a Safer Home
We install industry-leading whole-home (ultraviolet) UV air filtration systems for Minneapolis and Twin Cities residents and businesses, as well as UV air purifier replacements. Whole-house air purifiers easily attach to your current heating and cooling systems. Air Scrubber Plus produces ozone and removes up to 99.9% of the harmful contaminants in your home. It also helps to clean the surfaces of your home, such as countertops, bathrooms, kitchens, and doorknobs. The installation of this UV air filtration system is designed to fit into your home's existing HVAC system and is installed directly into your forced-air duct system. With our home UV air filtration systems and UV air purifier replacements, you can remove harmful pollutants like:
Dust and pollen
Some molds and bacteria
Animal dander
Unwanted odors
Cleaner Air: UV Air Purifiers for HVAC
The air coming from your cooling system may feel fresh and clean, but tiny pollutants such as bacteria and mold particles that are invisible to the naked eye can sometimes grow in its moist environment. Protect your loved ones against airborne pollutants and health hazards in your home with a UV air filtration installation or replacement for your HVAC system.

Get Started Today
Privacy note: All submitted information will only be shared with Sedgwick HVAC. See our full Privacy Policy. This site is protected by reCAPTCHA and the Google Privacy Policy and Terms of Service apply.
Protect Your Home & Family
Let our team provide you and your family the highest quality air possible.

Keep Your Family Healthy
An efficient air filtration system can help you keep your family happy and healthy, as they reduce symptoms and the possibility of long-term damage.

Breathe Cleaner Air
Protects people from dangerous contaminants and pollutants that may lead to health problems.

Cut Maintenance Costs
A UV air purifier replacement helps extend the life of your HVAC system, promotes your system's efficiency and makes yearly maintenance easier (and cheaper!).
Air Scrubber Plus by Aerus
Air Scrubber Plus with ActivePure technology cleans the air and surfaces of your home 24/7 — removing up to 99.9% of the harmful contaminants in your home. 
This discrete natural whole-home air purification system consists of a special UV light and photocatalyst target, creating an Advanced Oxidation Process that contains multiple friendly oxidizers. These oxidizers work to reduce odors, visible smoke in the air, and infectious populations on surfaces without using ozone.
Benefits include:
Reducing health hazards, such as black mold
Using ultraviolet rays to kill harmful bacteria that can make you sick
Eliminating allergens and asthma irritants without using ozone
Contact Us to Learn More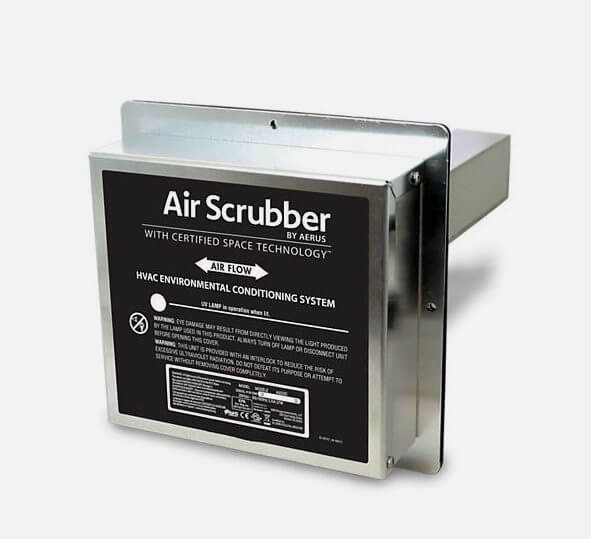 Additional UV Air Filtration & Purification System Products for Home
BreatheCLEAN
This ozone-free home air filtration system uses two 36 watt bulbs that deliver large amounts of UV energy, stopping germs in their tracks. The UV light ray breaks through the cell walls of germs, rendering them unable to reproduce and cause illness.
Consider the BreatheCLEAN for:
Providing health benefits for people suffering from asthma or allergies
Killing germs with ultraviolet energy
Stopping bacteria, mold and dust mites from collecting in the air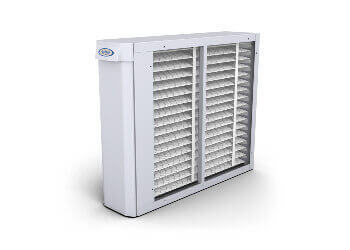 AprilAire Air Purifier – Model 2210
Remove common allergens and protect your family's air with the AprilAire Air Purifier, model 2210. This easy-to-install whole-house air filtration system protects your HVAC system from prolonged damage and offers superior filtration performance to 1-inch filters, resulting in purer, healthier air.
The AprilAire Air Purifier:
Includes a 213 Healthy Home Air Filter, free of cost
Can be easily installed into a variety of HVAC systems, with a size of 20" x 25"
Is easy to maintain
Long-Term Benefits
Why should I install a whole house UV air filtration system?
Homeowners who should consider a high-efficiency air purification system installation include:
Pet owners
Smokers
People with sensitive allergies or asthma
Families that cook often
Commercial environments like doctor's offices, medical facilities, classrooms, and veterinary offices would also benefit from a quality air filtration system installation from our Minneapolis team. When installed right into your HVAC, and paired with UV lamps, indoor air filters are extremely effective in preventing the spread of infection, airborne bacteria, and airborne viruses.
Why do I need an HVAC UV air purifier installation?
Without a UV purification system, pollutants could be getting carried in from the inner part of your cooling system and into your home. Ozone-free UV air filters for HVAC use high-intensity ultraviolet rays to attack health hazards in your home that can cause illness and irritate the symptoms of asthma and allergies. By installing UV lamps near the indoor coil of your air conditioner, the HVAC whole-home UV air filtration system uses an all-natural method to kill discreet infectious populations inside your cooling system.
If you're in need of an air purification system installation or a UV air purifier replacement, call the experts at Sedgwick!