How to Read an EnergyGuide Label

Look closely at an HVAC appliance or system, and you'll notice a bright yellow sticker loaded with information. This is the EnergyGuide tag, and it exists to help you understand an HVAC unit's efficiency in order to make a better purchase decision. A higher-rated system will consume less power, so if you're in the market for a new HVAC system, it's worth factoring those cost savings into the total price. Even if a unit seems expensive at first, it might be worth the initial investment, because a more efficient system will probably cost you less in the end. What's more, an efficient HVAC system is less likely to break down, so you really do get what you pay for. Deciphering this label is important, so here's how to make sense of what's on it:
Top Left Corner 
Here you will find a short list of an item's features. These may include product type, capacity and size.
Top Right Corner
This is where you can locate a product's make, model and manufacturer.
First Box (Some Products)
Central air and heat pump systems feature special efficiency ratings here. Locate a SEER rating for cooling and HSPF rating for heating. SEER ratings currently range from 13 to 23 and HSPF ratings go from 7.7 to 10. Higher ratings indicate a more efficient system.
Second Box 
You can see the estimated yearly operating cost here. This figure is based on national average energy prices. Below the estimate, you can see where this price falls on a scale, compared to similar models.
Bottom Third
This information indicates the yearly power usage of the item, measured in kilowatt-hours. Below this, you will find a few disclaimers and an Energy Star certification if applicable. Energy Star appliances are preferable, because they are more efficient and better for the environment.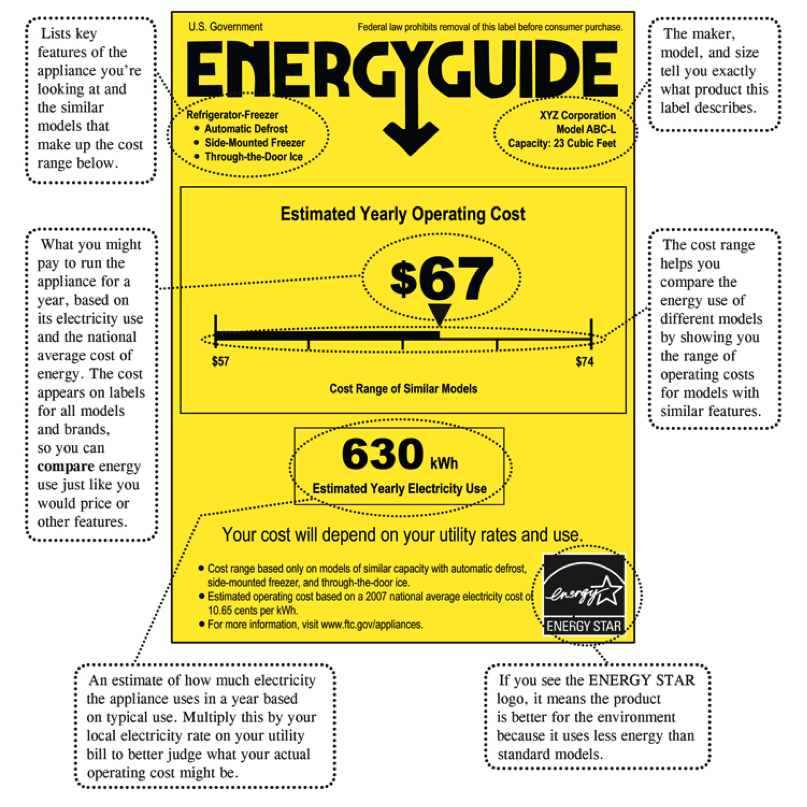 The EnergyGuide label is an easy way to better understand the products you're browsing. Many people forget that energy costs are something you will have to deal with for the life of your HVAC system, so making an informed decision is crucial. It's hard to miss these labels, as they're bright and placed prominently on the product. Be sure to check out this label before your next HVAC purchase.